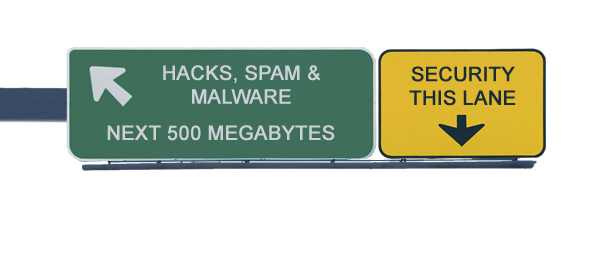 Your Website Safety
"Uh Oh"... your credit card just got hijacked, your bank login fleeced, identity stolen and you're inundated with spam and scams and your website has been hacked.

If you don't employ security to your web presence, it's a bit like inviting criminals into your house. Unfortunately there's no way of preventing 100% of attacks. Your best option is good safety practices and vigilance in employing methods to make your site unatractive to the bad guys.
The Good Guys vs Hackers
The mother of annoying itches. Unlike the media portraying them as cool nerds, we don't love hackers, we hate them. They hurt our clients and their businesses.

Never fear, Howard is here. Using his uber-geekedness, he can plug in Integrinets security solutions. Based on your requirements, we offer four (4) add-on solutions.
+ Detection:
Designed to monitor all your site activity. Full scans are performed and suspicious behaviour reported to us for threat analysis. Action can then be taken to secure the breach before a potential issue escalates.

+ Site Backup:
A cycled schedule protects all of your sites files from being lost, including your databases, emails and custom settings.

+ Maintenance:
Cycled security audits are employed as a website health activity which keeps your used platform updated, checks and cleans logs, directories, redundant files and permission alongside visitor activity and hacker attempt audits.

+ Comprehensive Prevention:
All the benefits of the affor mentioned add-ons with the addition of a full Website Application Firewall. This barrier inclusion is targeted at further threats from spambots, malware, database intrusion, brute force and cross site scripting attacks and the list goes on. This is the best way to stop your site from being blacklisted.

Contact us to get a more detailed brief of Integrinets security solutions.
To breeze over some of our client works, go to Client Folio